The Apple iMac is one of the most popular all-in-one solutions for creatives and professionals alike, but that doesn't mean it can't be made better. Using some of the best iMac accessories can give it more ports, better sound, expanded storage, or even help your iMac take up even less space on your desk.
Here's a list of some of the best iMac accessories you can buy right now.
Satechi USB-C Clamp Hub
Pros
USB-C and Thunderbolt docks
Minimalist design
Adds card readers to your Mac
Matches silver iMac
Cons
Won't blend into the colorful iMacs the same way
This excellent Satechi hub is designed to clamp to the underside of your iMac so you have all the handy connections you need without taking up any additional desk space. It is specifically made to work with Thunderbolt 3 and includes USB-C, three USB-A 3.0 ports, and SD and microSD card readers. Plus, the design is made to match your iMac's style with an aluminum finish (available in Space Gray and silver).
If you've been annoyed by how hard the back-panel ports are to reach on your iMac, these solutions fix that problem and much more, making it an easy recommendation for anyone who uses their iMac frequently.
Apple Magic Keyboard
Pros
Durable design
Long-lasting battery
Available in colors to match new iMacs
Cons
The low-profile keys may not feel good if you prefer mechanical keyboards
There are a lot of great keyboards out there, but one of the best options for Macs is still Apple's own Magic Keyboard. Not only does the Magic Keyboard naturally tie in the aesthetics of a Mac setup, but it's overall one of the best typing experiences you can get in a Bluetooth keyboard. Plus, the Magic Keyboard has macro keys built just for MacOS, and the upcoming models even have a Spotlight key and TouchID built-in. Plus, they come in different colors to match the new iMacs.
There are two real options when it comes to the Magic Keyboard: You can get a standard compact version or you can get a larger version with a 10-key number pad. The standard 78-key version should be fine for most people, but the number pad can be handy for frequent Excel users.
Apple Magic Trackpad 2
Pros
Great alternative to an Apple mouse
Good for getting around larger iMac screen quickly
Very customizable for response
Cons
Can't substitute for a mouse in every task
The Magic Mouse's shape means it's not to everyone's taste. The Magic Trackpad 2, however, is excellent. It's an immense improvement on the original Trackpad, coming with a slimmer design, more durability, a larger surface area, and better sensors. It's a must-have if you're familiar with MacBooks.
You can quickly set up this trackpad to work well with the iMac's large screen at a speed and responsiveness that works for you. This trackpad is a great solution for those who want to avoid some of the wrist problems associated with mice — or if you simply prefer using gestures in MacOS.
Twelve South MagicBridge
Pros
Holds your trackpad and keyboard together
Perfect for holding a keyboard in your lap or a small space
Seamless fit
Cons
The setup doesn't allow for flexible positioning
There are a lot of keyboards you can choose that have great features and Mac compatibility. However, if you already have Apple's Magic Keyboard and Magic Trackpad and want to take them to the next level, this clever little tray is perfect. It allows you to connect Apple's Magic Trackpads (more on these below) to either the right or the left of the Apple Magic Keyboard in a seamless arrangement.
As long as you have both accessories, you can connect them so they work together effortlessly. It's a great accessory if you like to hold your keyboard in your lap or just keep your desk setup a bit cleaner.
Logitech MX Master 3 Wireless Mouse
Pros
Very comfortable design
70-day battery
Multiple mode scrolling wheel
Works on any surface
Cons
May be a bit expensive for some budgets
On the other hand, some users absolutely require a mouse for their computer activities. While there are a lot of great mice out there to choose from, this Logitech model is top-notch. It has a comfortable ergonomic design and a rechargeable battery that can last up to 70 days on a single charge. The light gray version pairs particularly well with an iMac setup.
The auto-shift scrolling wheel also makes high-speed scrolling and maneuvering a breeze. The mouse is designed to work on any surface, including glass, so a mousepad isn't absolutely required. If you work on multiple computers at once, you can program the mouse to work between them interchangeably, too. As we said in our review, it's a "near-perfect" mouse.
Logitech MX Master 3 Wireless Mouse
Satechi Aluminum Monitor Stand Hub
Pros
Allows you to raise your iMac height
Front-facing ports included
Sturdy aluminum design
Cons
Won't match Mac colors beyond silver
The iMac doesn't really have any adjustment options when it comes to things like height. If you want your iMac to be higher for better visibility, you need to get a stand to put it on. Out of all the stands out there, we particularly like the Satechi model. It's a beautiful aluminum design that matches the iMac, and it includes ingenious front-facing ports built right in, so it can also function as your hub.
This model includes an audio jack, USB 3.0 port, USB-C port, and an SD/micro SD port on the stand. A USB adapter is included if you need to use older USB devices.
Satechi Aluminum Monitor Stand Hub
Twelve South iMac Stand
Pros
Spacious design with cubbyhole
Can store many different accessories
Adjustable up to 4 inches
Cons
The look isn't for everyone
If you're looking for something a little more unique, Twelve South also has an excellent iMac stand that includes a cubbyhole for built-in storage. Once the stand is attached, you can pop open the front panel to find two small shelves for storage — ideal for wallets, phones, AirPods, or anything else you want to keep near but out of the way. You can even run a USB hub from the back of the iMac through the back of the stand. This means you can have quicker access to ports without having a mess of cords on your desk.
The encapsulating stand is also adjustable, allowing you to raise your iMac up to 4 inches if necessary. You can choose between Walnut or Gunmetal for the framework.
Vivo Adapter VESA Mount Kit
Pros
Allows for safe iMac wall mounting
Compatible with a variety of models
Sturdy steel design
Cons
Not everyone needs a wall mount
Newer versions of the iMac are generally easier to mount to walls than older versions. However, this particular Vivo VESA mount comes with an adapter kit that means you can use it for an iMac model between late 2009 and current versions, which should cover just about everyone.
If you are in a situation where you really need your iMac mounted on a wall rather than freestanding, this is your best option. Everything you need for mounting is included, and the steel hardware is designed specifically for the iMac.
Vivo Adapter VESA Mount Kit
Western Digital 6TB My Book External Hard Drive
Pros
Large 6TB capacity
Built-in encryption
Compatible with Time Machine
Cons
The large capacity is designed primarily for professional purposes, not casual use
If you need an external hard drive specifically for your iMac, you probably need some serious and reliable storage. This 6TB WD drive is a perfect fit. It includes both Western Digital Backup software and compatibility with Time Machine to make sure your data stays safe.
Password protection that includes hardware-based encryption is included for an extra level of security as well. While the drive is designed to work with USB 3.0, it can also accommodate USB 2.0 connections, if necessary. If your professional content ends up needing even more room, you can get the same drive model at up to 20GB, although this will raise the price as well.
Western Digital 6TB My Book External Hard Drive
Logitech Z623 2.1 Speaker System
Pros
2.1 system with subwoofer
Excellent audio quality
More affordable than many speakers of similar quality
Cons
It takes up some room, especially the blocky subwoofer
Your iMac also deserves some great sound. While iMacs have decent speakers themselves, you may need some backup if you really want to jam out at your desk.
If you are shopping for a new speaker system for your computer, this Logitech model gives remarkable sound for its price, thanks to the THX-certified 2.1 speaker system that includes a hefty subwoofer (designed for placement under your desk, preferably). The speakers offer 200 watts RMS/400 watts peak performance. There are also RCA and 3.5mm inputs for connecting other devices.
Logitech Z623 2.1 Speaker System
Apple AirPods Pro
Pros
Clear, engaging sound
Excellent noise canceling
Comfortable
Superior call quality
Wireless charging case
Cons
Questionable long-term battery life
Everyone typically thinks of AirPods Pro for their iPhone or iPad, but they're also great for the Mac. Their active noise canceling helps tune out the general noise of the office or any children or pets if you work from home. Pairing is simple and painless, as it is with all other Apple devices. You can even switch between active noise canceling and Transparency mode right from the Mac. Just tap on the AirPods icon in your taskbar and switch to the mode you prefer. If you're in the market for new earbuds, it doesn't get any better than Apple's own.
Twelve South Hidden Shelf "Backpack" for iMac
Pros
Ideal for keeping external hard drives, charging pads, and more
Doesn't obstruct any accessories
Holds up to 3.5 pounds
Cons
The behind-the-computer design won't work for everyone
If your iMac enjoys an open desk arrangement, you may be looking for some extra storage space. This little mount attaches to the back of your iMac to create a small shelf back there. It is ideal storage for external hard drives, wireless charging pads, MacBook or iPhone charging, and so on. The shelf can hold up to 3.5 pounds.
Twelve South Hidden Shelf "Backpack" for iMac
Yilador Webcam Cover Pack
Pros
Easy privacy protection
Works on any iMac
Quickly slides back to expose webcam
Cons
Requires careful placement and use
Hackers have found webcam attacks to be lucrative if they can take remote control of the webcam, turn it on, and record the unwary (or at least threaten to). The easiest and best way to prevent these attacks is with a simple webcam cover. Webcam covers on MacBooks can be tricky because they may interfere with how the MacBook closes and could even damage the screen, but fortunately, iMacs don't have that problem. That's why these Yilador webcam covers are such a great purchase. They offer affordable protection and can easily slide back and forth depending on when you're using your webcam.
Yilador Webcam Cover Pack
Loupedeck+ Photo and Video Editing Console
Pros
Gives creatives a simply manual station for editing work
Compatible with Lightroom, Final Cut, Photoshop, and more
Tons of customization options
Photo and video editors will love this Mac-friendly console, which is designed to work with Lightroom, Final Cut, Photoshop, and similar programs for unparalleled precision and lots of ways to save time — or even control two editing functions at once to make sure their combined effect is perfect. Nearly everything on the console can be customized to just the way you want it, too, perfect for professionals working on their own iMacs.
Loupedeck+ Photo and Video Editing Console
Blackmagic eGPU
Pros
Allows for GPU upgrades on an iMac
Serves as a dock with extra ports
Portable
Cons
Those who haven't upgraded a GPU may be surprised at the cost
iMacs aren't exactly easy to upgrade in any way, but this external GPU is an alternative solution for those looking for a huge graphics boost. It's a powerful Radeon Pro 580 graphics card with 8GB of GDDR5 memory. The unit includes two Thunderbolt 3 ports, four USB 3 ports, and an HDMI port to support a variety of configurations. It's also portable enough to easily switch to a MacBook if necessary!
PU Leather Lager Desk Pad Protector
Pros
Resists spills
Supports mice
Two-sided with different advantages
Cons
Needs plenty of desk space
Protect your entire iMac desk space with this affordable cover that also doubles as a handy mousepad. It's designed to resist spills, and it's easy to clean if a mess happens. You can also pick which side you like best — a nonslip surface with a bit of a grip or a smoother waterproof surface with extra protection.
PU Leather Lager Desk Pad Protector
iMac Kuzy Monitor Cover
Pros
Full protection for the iMac screen
Machine washable
Designed to quickly pull on and off
Cons
Not necessary for all users
If you depend on that beautiful iMac screen for your professional work, then it's important to keep it protected even when you aren't using it — especially if it's not exactly safe from spills or damage at home.
This Kuzy monitor jacket is specifically designed to secure your iMac, so you don't have to stress about its safety when you're not using it. The cover blankets the front and edges of the computer with a thin, smooth fabric. This material is not only machine washable but also prevents the accumulation of dust and protects against sunlight, moisture, oily fingerprints, scratches and dents, and other common issues. It's also easy to put on and take off, taking only a matter of seconds each time. 
Gator Cases Creative Pro Tote Bag
Pros
Designed specifically for safe iMac transport
Padded layer for display protection
Waterproof PVC base
Cons
Only for those who need to frequently transport Macs
There may come a time when you need to uproot your iMac and transfer it to a new location. This can be a scary and inconvenient situation, and although it's usually not anyone's objective to lug around a giant iMac, it's probably going to happen at some point. When it's time to transport your iMac, you'll want a special tote bag like this one, which features adjustable (and comfortable) padded nylon and a foam cradle to protect the computer. It also provides a sturdy panel in the front of the bag to offer additional security for your screen. 
This waterproof bag has a solid PVC base on the bottom and rubber prongs that keep your iMac off the ground, saving it from a variety of potential damages. We view this tote bag as the most secure transport bag available today.
Gator Cases Creative Pro Tote Bag
Apple HomePod Mini
Pros
Computational audio optimizes the experience
Clean sounding highs and mids
Compact size makes it discrete
It's the most affordable HomeKit home hub
Cons
Siri lacks the advanced intelligence of her peers
Short power cord
The HomePod Mini is the perfect desktop assistant, designed to sit by your iMac and serve as a constant voice assistant via Siri while playing any of the tunes or podcasts that you could want. It's also built to naturally interact with your iPhone so you can hand off your music when you sit down to get some work down.
All this, and the Mini is much more affordable than the previous HomePod, making it an accessory that's suitable for many budgets. If you have any smart devices that work with HomeKit, then you can also use the Mini as a hub to give them directions.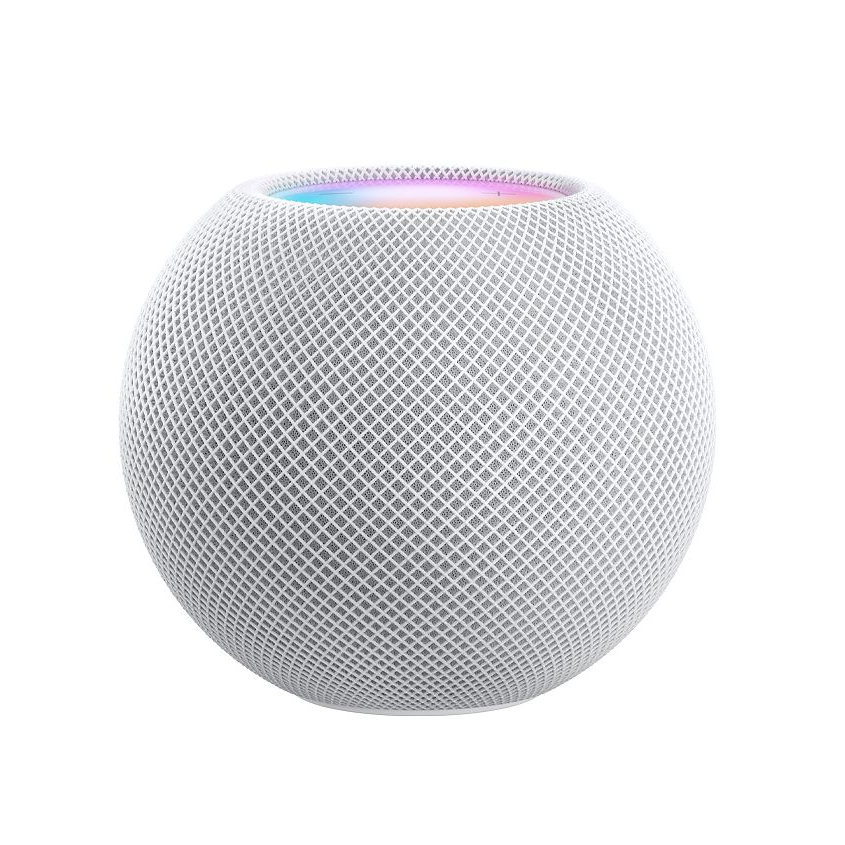 Editors' Recommendations