Best gaming tablets for 2022: The idea that gaming is something you can only do on a souped-up, multicolored PC — or on the box under your TV — is dead. Mobile gaming has arrived, luring millions of people with a wide range of challenges from matching three fruits in a row to colonizing planets. The best Android and iPhone games vary widely, but sometimes the lack of smartphone screen real estate can cramp your style. If portability is still a prime factor, then split the difference with the best gaming tablets.
While the emerging category of dedicated gaming phones may be starting to heat up, the idea of specialized gaming tablets seems to have died with the Nvidia Shield. The best gaming tablets today are somewhat — though not entirely — distinct from our best tablets, but they have a few standout features that make them optimal for gamers as well as overall tablet users.
Apple iPad Pro (11-inch)
Best overall
Pros
Incredible performance
Beautiful display on 12.9-inch model
Stunning design
Center Stage works great
USB 4/Thunderbolt 3 port
Cons
Nearly MacBook priced
No Mini-LED on 11-inch model
Two things that set the iPad Pro head and shoulders above the crowd when it comes to gaming are the enormous, sharp, and smooth 120Hz display and the completely unrivaled raw processing power. We've highlighted the 11-inch model as the best pick because it's a little more affordable and manageable, but if you want to get lost in something like Civilization VIthen the 12.9-inch model is even better. Pairing this tablet with some of the best iPad Pro games will be enough to keep the most demanding of gamers happy.
There's also the new iPadOS 16, with Metal 3 gaming software, bringing the MetalFX upscaling and quick loading API found in the latest Mac update, meaning you can download bigger assets in the background while running other games (and apps). The Game Center gets an update too, with SharePlay integration for smoother co-op gaming, plus a new Activity screen that makes it easier to see friends' progress and high scores.
Apple's tablets stand apart from the Android crowd because of the level of polish and the optimization of many apps, and nowhere is this difference starker than with games. This is also a great-looking tablet, with convenient Face ID built in, and a host of fun augmented reality apps and games. Battery life is good enough to keep you gaming on the go for hours.
The obvious downside is the high cost.
Apple iPad Pro (11-inch)
Best overall
Samsung Galaxy Tab S8 Plus
Best Android gaming tablet
Pros
Powerful
Beautiful hardware
Gorgeous display
Great speakers
Productivity powerhouse
Cons
Keyboard case not included
Some software trouble
If you'd prefer an Android device to an iPad, then you won't do better than the Samsung Galaxy Tab S8 Plus. Packing the latest, lightning-fast Snapdragon 8 Gen 1 processor backed by 8GB RAM and 128GB expandable storage, every game you play looks amazing on the 12.4-inch Super AMOLED display with 120Hz refresh rate. Ray tracing support means more realistic lighting effects in compatible games, and you also get a 10,090mAh battery, AKG and Dolby Atmos audio, and a choice of three colors. Samsung's special Game Booster mode promises a lag-free gaming experience, and this time around there's Game Performance Management Mode to optimize CPU and GPU performance. The Galaxy Tab S8 Plus has S Pen support too, great for sketching or taking notes, and also doubling as a remote control.
Apple iPad Mini 6
Best small gaming tablet
Pros
Big enough to perform most tasks
Compact enough to travel easily
Powerful performance
Loud speakers
USB-C
Cons
Screen is not bright enough
Too small for content creation
No headphone jack
Games work just as well on smaller screens, and there's a big space for a small gaming tablet in many lives. The new iPad Mini fits that gap pretty perfectly. It's a big upgrade from the last iPad Mini, and the 2021 model sports a new bezel-less design to bring the tiny iPad series into the modern era. It isn't just more beautiful though, as the addition of an A15 Bionic processor also means it's just as capable as its bigger siblings. Processing speed is very important in gaming, and this new chip means the iPad Mini is able to keep up with the most powerful tablets in the world.
Of course, the major feature of the iPad Mini is its relatively small size. The 8.3-inch Liquid Retina screen is great, but it is small. As such, if you're not a fan of a smaller screen, then this isn't the tablet for you. But if you need something that can be easily tucked away, the iPad Mini 6 is excellent. It's not the cheapest option available, but it's not the most expensive either.
Apple iPad Mini 6
Best small gaming tablet
Samsung Galaxy Tab A8
Best budget gaming tablet
Pros
Solid performance
Clear, bright screen
Slim and lightweight
Cons
Default internal memory is limited
While it's not the most powerful tablet around, the Samsung Galaxy Tab A8 offers more than enough to enjoy tablet gaming. The Unisoc Tiger T618 at its core can struggle with some of the more demanding games out there but should handle most tablet games without much issue. The 10.5-inch TFT display is clear and crisp, and it's lightweight and slim, so it won't weigh you down during long gaming sessions. 32GB of storage is a little limited for games, so the 64GB model is recommended — though there is room for a microSD card as well, in case you need the extra space.
With a price under $300, this is a great tablet to grab, especially when you can often grab it on a deal. But if your budget can stretch a little further, we recommend the basic iPad (2021) rather than the Galaxy Tab A8. But at this lower price, it's hard to beat the Tab A8.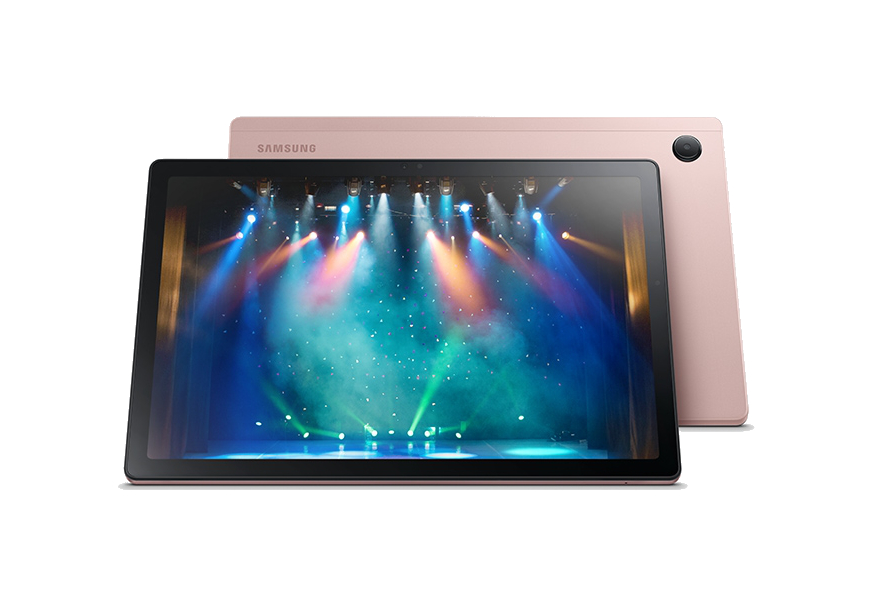 Samsung Galaxy Tab A8
Best budget gaming tablet
Amazon Fire HD 10 Kids Pro
Best gaming tablets for kids
Pros
One-year access to Amazon Kids+
Kid-friendly design
Colorful kickstand case
Cons
Relatively limited choice of games
Amazon has upgraded its Kids offerings and now offers the Pro model as well. Specifically designed for kids between 6 to 12 years old, the Fire HD 10 Kids Pro comes with one year of access to Amazon Kids+, a comprehensive warranty, and a colorful (and less cutesy) kickstand case to boot. It has the same 10.1-inch display and hardware as the non-Pro model, and it, unfortunately, doesn't have access to the Google Play Store either, so the number of available games is limited. However, there are still plenty to choose from on the Amazon App Store.
It's great for books, videos, and apps as well as games, making this a strong choice if you're looking to get a big-screen kids' device for work and play. Kids can even make video and voice calls over Wi-Fi to pre-approved contacts or install apps like Zoom or Minecraft.
Apple iPad Air 5 (2022)
Worth considering
Pros
High-performance M1 processor
Slim and light
Software suitable for work or play
Large, colorful, and sharp screen
Wide array of quality accessories
Center Stage works well
Cons
64GB storage isn't enough
Battery life disappoints
Check out the latest iPad Air if you prefer a smaller, portable screen on their tablet but appreciate the features of an iPad Pro. Its compact 10.9-inch screen allows for quicker hand or finger movements during your gameplay, making it a great option. You can choose between 64GB or 256GB of storage, though 64GB isn't really enough in this day and age. You also get the option to add the Smart Keyboard Folio for work, or the 2nd Gen Apple Pencil, for sketching or note taking. The newest iPad Air packs Apple's powerful M1 processor, capable of handling the latest games with ease, and everything looks amazing thanks to the 2360 x 1640 resolution display and Apple's True Tone color management system. However, there's no Pro Motion 120Hz refresh rate here.
Many users will appreciate that the Apple iPad Air 5 has a USB-C connection to connect and charge rather than the Lightning cable of older, standard iPad models. This new connection makes charging your iPad even faster and more reliable.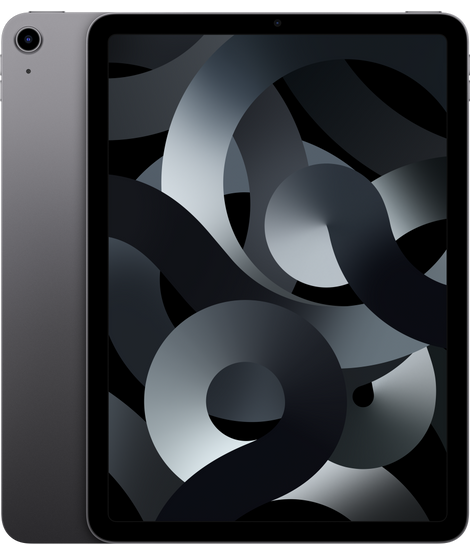 Apple iPad Air 5 (2022)
Worth considering
Frequently Asked Questions
How do gaming tablets differ from other tablets?
Most tablets can be used for playing simple games, but if you are an avid gamer who spends long hours playing high-processing games like Genshin Impactyou'll need a tablet that can match your usage needs. So, if you play games with heavy file sizes, look for tablets offering ample storage space. Take, for instance, the Apple iPad Pro, which offers up to 2TB storage — more than enough for most heavy games. Another difference could be the processing power. Most heavy games require a powerful processor for seamless play so look for tablets like the iPad Air and the Samsung Galaxy Tab A and S series that offer super-fast loading and lag-free gaming.
Does battery capacity matter in a gaming tablet?
Battery life is one of the most underrated features of a gaming tablet. No matter how powerful of a device you buy, if it lacks a good battery life, you can't fully enjoy it. So, if you are looking to play or stream games continuously, look for gaming tablets with at least 6-8 hours of battery life. Devices like the Apple iPad Pro, iPad Air 2022, and Amazon HD Fire 10 boast 10-13 hours of performance on a single charge, making them excellent options for uninterrupted heavy gaming.