Out of the different kurti designs, the pleated kurti designs are quite interesting and innovative. There are different types of kurtis and kurtas for women that you can keep in your wardrobe; however the front pleated kurti designs are the latest things that women absolutely adore. Here, we have compiled the catalogue, where you can check the latest front pleated kurti designs for ladies. That can be an A line kurti, dhoti style kurti and angrakha kurti or even the Indo Western outfits, however what matters is the ease and comfort when you wear these kurtis for college, work, office and for daily use. So let's take a look at the latest front pleated kurti designs for women.
Latest 30 Types of Pleated Kurti Designs To Try This Season
1. Grey Front Box Pleated Kurti
It is absolutely beautiful women's kurti and as it is made with the cotton fabric; definitely it is a summer kurti design which can be worn with utmost comfort. It has a round neckline which is not too deep hence, can be termed as quite comfortable. This kurti has a tassel tie as well. With three fourth sleeves and a beautiful pattern, it can be an office wear kurti as well. Pair it with different bottoms like leggings, palazzo pants and trousers to create a stunning look which is impressive and awe-inspiring.
2. Grey Side Slit Long Pleated Kurti
The gorgeous grey colored cotton kurti come with a centre slit and an immaculate button placket. On both sides it has pleats, which simply accentuates the beauty of this already impressive and comfortable kurti design for women. The best part about such dresses which we like is the solace you get when you wear it. It can be flaunted as an office wear kurti, college and for daily use.
3. Angrakha Pattern Front Pleated Kurti Design
This kurti design is yet another beautiful pattern where in printed blue cotton fabric is used. The beauty of this kurti is its A-line pattern and the top part is made in the angrakha style wrap pattern. It has small tucks and pleats in the front part.
4. Yoke Pattern Pleated Kurti For Ladies
Yoke pattern or the patch certainly highlights the design of the kurti. A yoke design actually adds more beauty and dimension to the otherwise plain looking casual wear kurti. This kurti is made with a very subtle and aesthetically printed fabric. It has taping of brown fabric used to create a bit of contrast. Buttons are also added on the front part in pairs that makes this kurti more elegant and defined. Not to forget that it is also indeed comfortable to wear.
5. Yellow Cotton Kurti For Women
This next kurti is an absolutely gorgeous looking and comfortable to don cotton yellow kurta. It also has a yoke panel and pleats on both the sides. If you will notice, the pleats are not like the regular ones but they are box pleats, which are added to create an attractive pattern. It has round neckline and the yoke is made with the blue contrasting fabric. The kurti is an absolutely enchanting dress that can be worn with or without the usual bottom wear. Ditching the bottoms will help you get yourself dressed in a kurti dress for a more western and carefree summer look.
6. Yellow Long Cotton Pleated Kurti
This is a kurti where you need not to find a lot of bling and sequin, or embroidery but rather it is quite a simple looking kurti that one can wear for different occasions. For example, a cotton kurti with a nice printed pattern like this can be tried for the Puja ceremonies at home. Additionally, it can also be used for the occasions where you wish to look good but comfort is always your preference.
7. Boat Neckline Front Pleated Kurti Design
Boat neck patterns are undisputedly very popular at the moment and all the credit goes to the different western wear that we have seen in the boat neck designs. This beautiful and exclusive kurti comes with boat neck and a square yoke patch stitching over the bust part. This kurti has three fourth sleeves and is ideal for the men who would love to experiment yet would want to keep the dress pretty comfortable and casual.
8. Printed Kurta Plazo Set
This kurti plazo set in a printed fabric and design is ideal for the get-together, puja ceremonies or casual hangouts and even for your office. It looks like a professional kurti that will add more charisma to your personality. The best part about this kurti is the front yoke and pleating done to create striking visual appeal. It has round neckline and there is no any additional embellishment or showy things involved. Don't you like such simple yet elegant styles of Indian wear? We bet you definitely do!
9. Long Angrakha Pattern Front Pleated Kurti Design
We simply love this ladies kurti and the credit absolutely goes to its beautiful pattern and the way it has been styled. It has the bishop or the peasant sleeves with an angrakha pattern top part above the waist. The bottom skirt part is made in the pleated pattern. This is made on a Georgette fabric and it is actually a chikankari work kurti design. It is a long kurta that is ideal to pair with a plazo to create more impressive dressing sense.
10. Long Embroidered Pleated Side Slit Kurti Design
It's no secret that embroidered kurtis will never lose their charm or simply go out of style in the daylight. As a matter of fact, embroidered kurtas and kurtis are not only beautiful but they are also ideal for the festivals, ceremonies and ethnic functions, weddings and what not. Even when you have to attend a Puja, an embroidered cotton kurti like this can be an ideal pick. We hope you're nodding in acceptance.
11. Cotton Long Side Pleat Kurti For Ladies
It is a pure cotton kurti which is ideal for the summer season. Summer being too hot calls for clothing which are more breathable and highly comfortable while you are in them. And here, the cotton kurtis would definitely fit the bill. A cotton kurti like this is our ideal choice for casual daily wear.
12. Green Front pleat Cotton Kurti for festivals
Here is an example of another cotton kurti that one can definitely try for festivals and functions. What catches the attention is its beautiful and intricate layer of hand embroidery on the front part. The floral embroidery adds more dimension and absolute subtleness to this otherwise monotonous and solid green kurti. It's not that the embroidery is done to make it more festive rather we feel it is done to impart an impressive and enchanting vibe. The embroidery is also done in the contrasting color which adds a lot of difference in the way the kurti is looking right now in the picture. Won't you agree?
13. Blue Box Pleated Kurti Design
When we say blue, this is the blue color that is hands down in this season. The beauty of this blue kurti is just on another level. We are saying this as it has a soothing baby blue color which is known for its sheer subtle vibe. The kurti has a box pleat in the centre part responsible for adding enough flare at the bottom. Even though it has side slits on each side, it looks pretty when it is paired with a full flared plazo pants. It even has stand collar which makes it formal kurti. Therefore, the next time you go for an event or even for an office function, such a versatile kurti should be tried.
14. Pleated Cotton Simple Kurti
Can't emphasis enough, how much we like the cotton kurtis. We feel that they solve the basic purpose of comfortable clothing for women for office and college. Even if you are an office going women or a college girl, a kurti in cotton fabric will be absolutely a must have item in your closet.
15. Shirt Collared Full Printed Pleated Kurti Pattern
This charismatic kurti not only has a gorgeous print but it is also captivating when it comes to the pattern and of course, its shirt collar.
16. Festive Wear Pleated Gota Work Kurti
17. Silk Umbrella Pleated Kurti For Parties
18. Vertical Printed Side Pleated Cotton Kurti
19. Printed Kurta Plazo With Side Pleats
20. Peter Pan Collar Box Pleated Long Kurti Design
21. Jacket Style Embellished Pleated Salwar Suit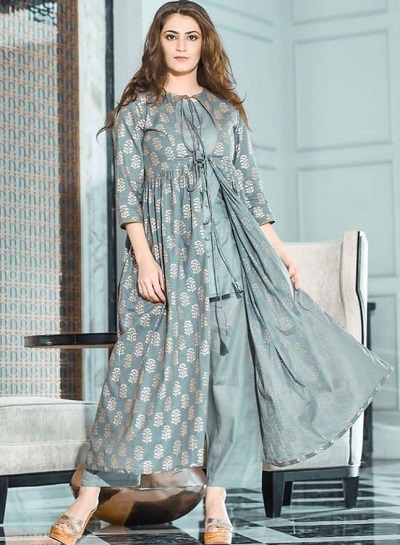 22. Cotton Tassel Short Kurti Design
23. Office wear Light Blue Cotton Kurti
24. Khadi Bell Sleeve Drop Waist Kurti
25. Printed Kurti Trouser Set For Office
26. Short Front Button Pleated Kurti For College
27. Party Wear Embellished Short Pleated Kurti
28. Cotton Embroidered Long Length Kurti Design
29. Blue Long Length Maternity Kurti Style
30. Front Pleat Suit Set With Dupatta
31. Embroidered Box Pleated Kurti Dress Style