In the early 1990s at UC Davis, students Ranil Piyaratna and Geetesh Goyal became friends–and then proceeded, for years, to not go into business together.
Goyal attended dental school before finding he was more interested in filling positions than in filling teeth. He and Piyaratna reunited to solve workforce problems for life-science companies. They founded Atomic Staffing, which became, in 2010, Neozene. Then CEO Goyal and CFO Piyaratna saw opportunity: If they built high-quality pipelines, they could deliver "human capital" to a broader range of businesses. "We could have delivered on 10 times the business we had," Goyal says. "And I was pretty confident my recruiting methodologies could transfer across industries. If a client has a critical need, it doesn't matter if it's in software, hardware, agriculture, shipping, or logistics. It was like, 'We can solve it!' So we cast a wider net."
That philosophy still drives Lathrop, California-based Human Bees, which prides itself on being able to place anyone from seasonal farm workers to contract CEOs. As Goyal says, "We're plugged into technology companies like Google and Boston Scientific and Bitcoin Depot, and companies with production workers like FedEx."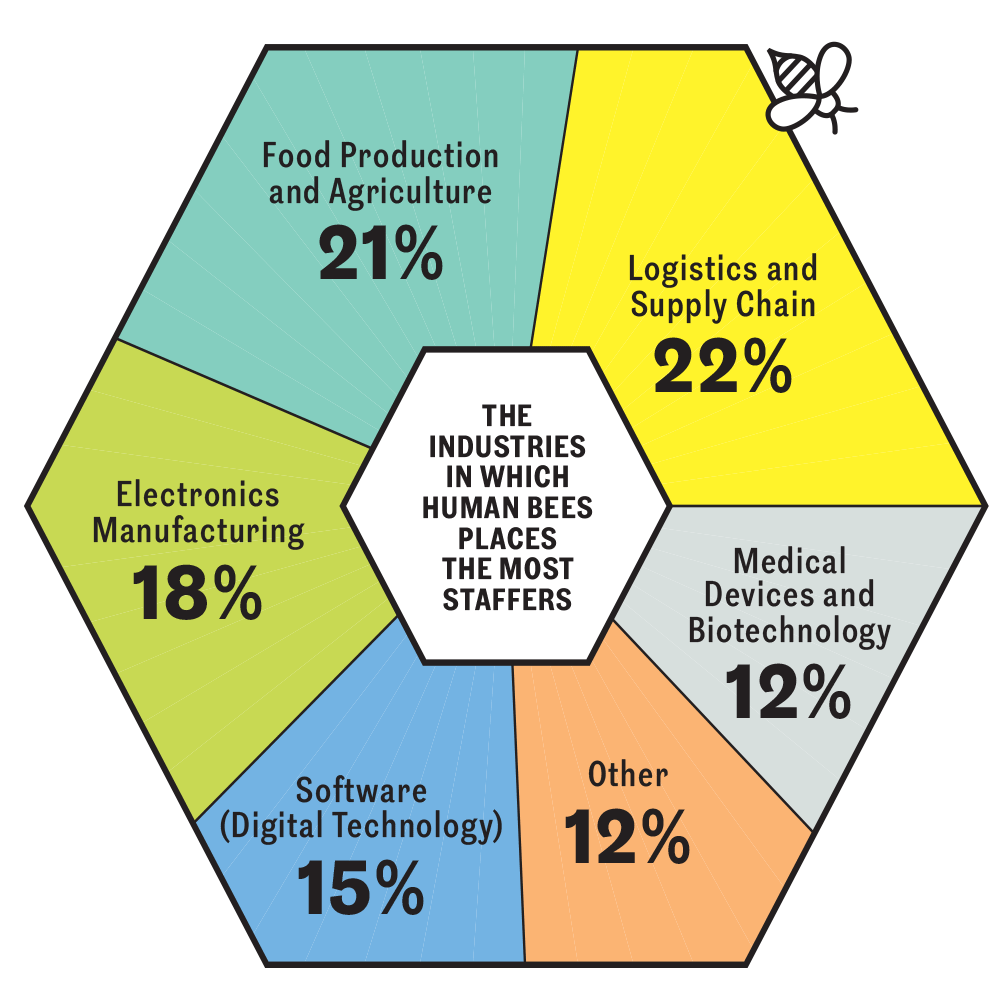 How They Swarm Fast, Sting First
At the heart of the model Goyal and Piyaratna built was a simple idea: deep vetting–at both ends of job placements. Today, the company questions clients extensively to grasp the full range of a position's requirements. After its recruiters search widely for applicants, whether by blanketing neighborhoods with fliers for truck drivers or by looking online for résumés of software engineers, they probe applicants through a series of interviews and behavioral tests. Candidates who aren't tight fits get discarded quickly. Good prospects move on just as fast.
Goyal believes any firm considering a candidate should complete its interviews and reference checks within 10 days of an application's hitting its inbox: "Time kills every deal, and you will definitely lose top talent if you are not quick on the process. Most companies–especially large ones–can take over four weeks to get through their processes. And if you can be more agile than they are, you will have a huge competitive advantage. Top talent will already be working at your company while others are still trying to coordinate interview number seven."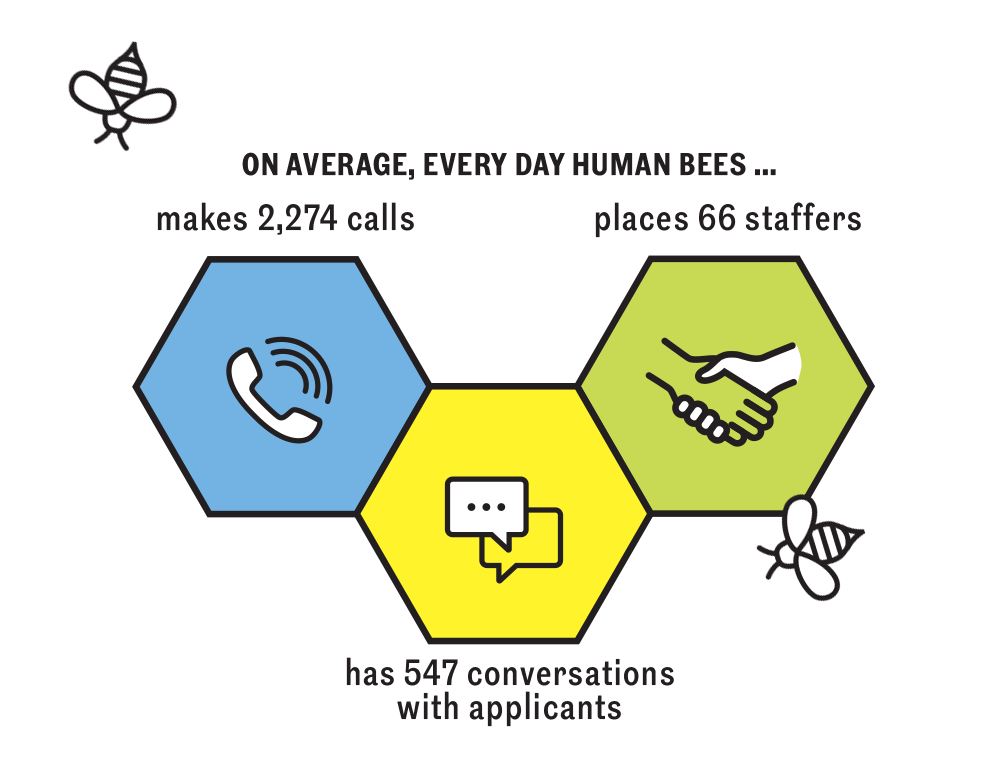 How They Catch More Bees With Honey
Return on investment for Human Bees' clients varies widely, depending on what kind of help they're seeking–but it typically includes savings on recruiting candidates, screening and testing applicants, payroll operations, and efforts to retain and replace workers.
Which raises the question: If there's this much money available through better workforce management, why don't companies keep more of it by doing that job themselves? Goyal believes it's because most large businesses are badly organized. "Corporate organizations have rolled recruiting and staffing up into human res, and this angle never made sense to me," he says. "Human res is the person who walks you through the benefit hotline. It's so broken–I mean, would you have HR selling your product? I don't believe any company has HR selling its product. Well, why the hell is HR selling the heart of your company to your employees? Sales teams should be doing that."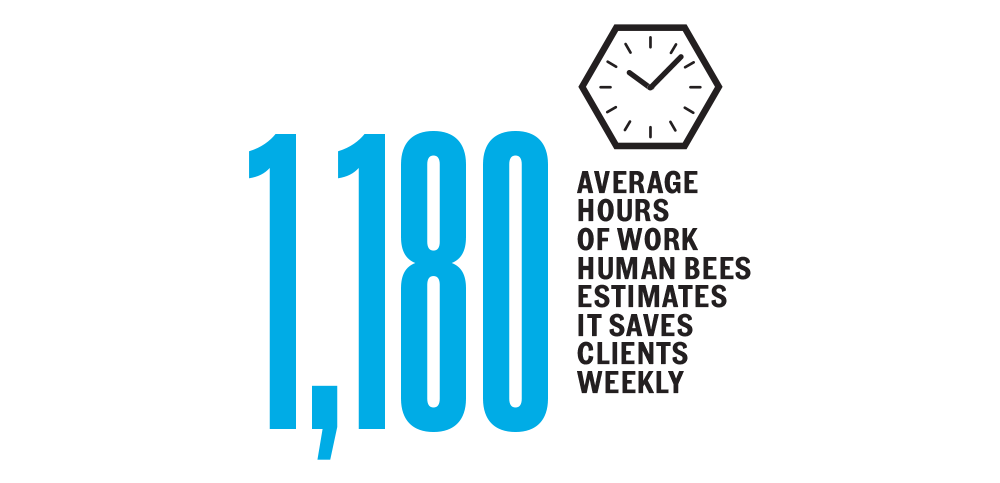 How They Have Sustained Their Buzz Through The Pandemic
As Covid ravaged the U.S. economy last year, it decimated the staffing industry: From February to July 2020, temporary employment shrank more than 20 percent. Over that stretch, Human Bees increased its placements by 134 percent.
A key reason: It never closed its doors. "We supported clients like FedEx, which was shipping essential goods, and Rainin, which makes pipettes for the CDC," says Goyal. "Our people were still out there on the factory lines."
After weighing such obligations and the relative youth of its staff, Goyal decided to work through the pandemic, and invested $70,000 in personal protective equipment and social-distancing barriers. The choice came with a cost: Despite the precautions, more than two dozen employees, including Goyal, have contracted Covid–out of just over 100 workers. But he still believes he made the right call: "You can place software engineers from home, and maybe financial analysts. But when it comes to industrial and production workers, you can't do it through the internet. You have to go out there, find them, and interview them in person. Otherwise, they won't be the right fit. It was the one decision that was the game changer for us."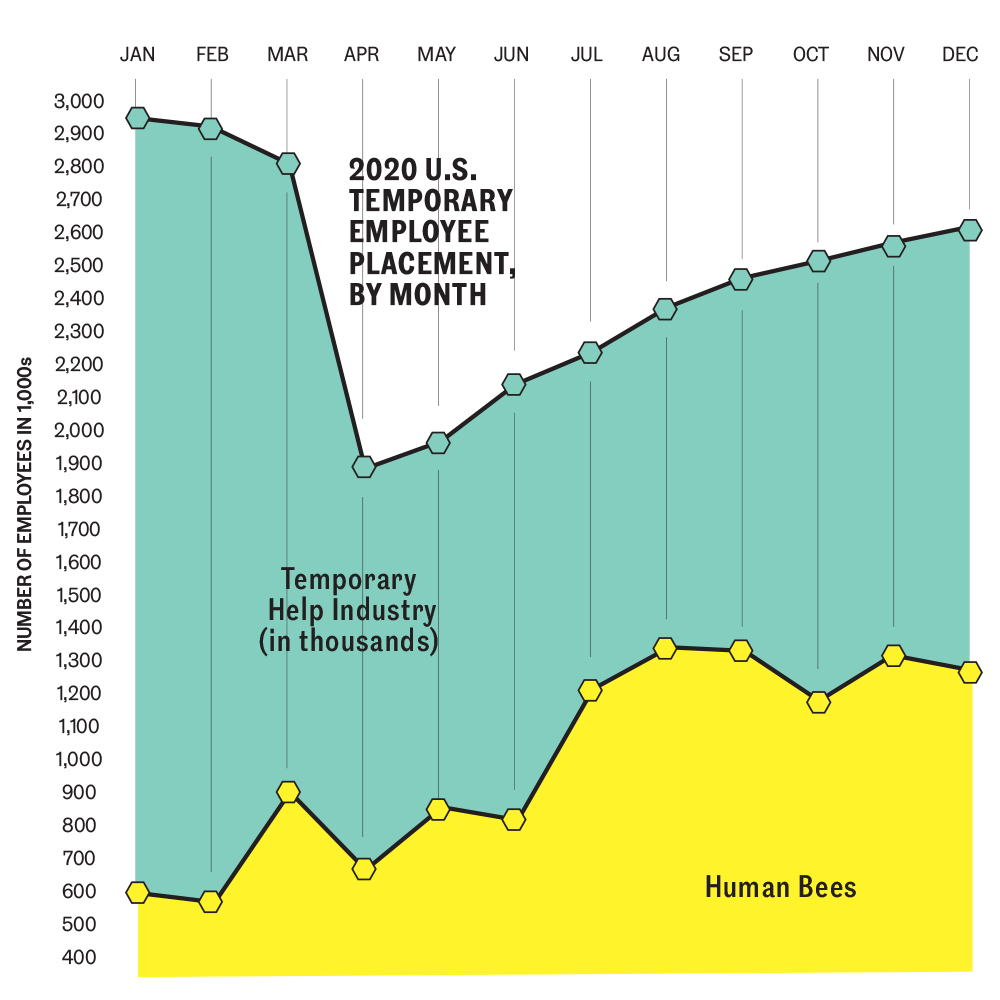 How They Pollinate Future Growth
It might seem unusual for a company whose mission is recruiting nonpermanent employees to lean so heavily on loyalty and reputation. But company officials like to tell the tale of account exec Steven Robinson, who ran into his old high school baseball coach three years ago. Upon learning the man was a manager at FedEx, Robinson pitched him on Human Bees and landed a follow-up the next day, and ultimately a partnership at Oakland International Airport. Today, Human Bees is the top supplier of contract workers to FedEx in Oakland and L.A.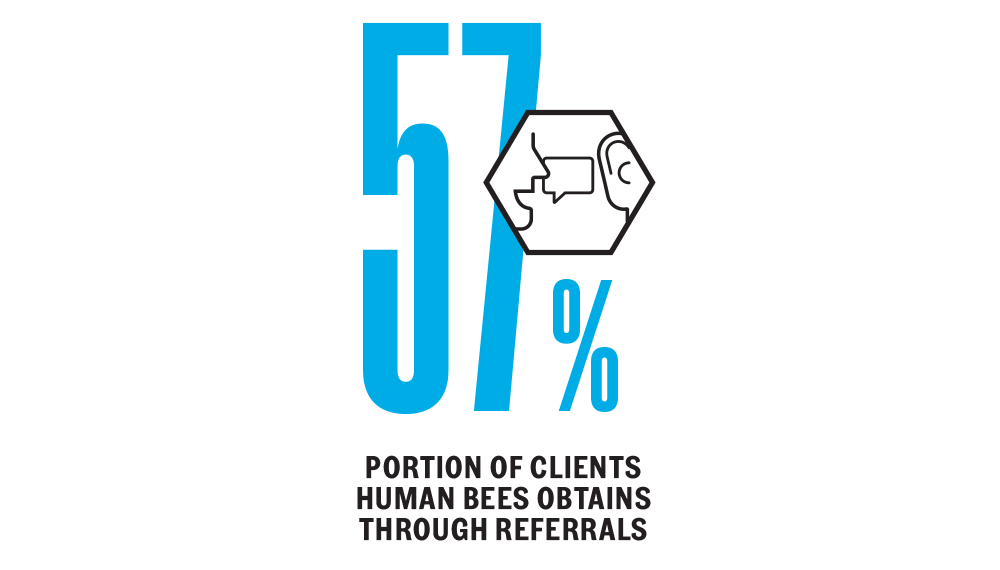 How They Continue to Expand Their Hive
Since Human Bees' founding, revenue has increased at an annualized rate of 685 percent a year to more than $50 million. How can the company sustain that growth rate over the long haul?
It can't, because nobody can–at least not organically. Which is why, as Human Bees looks ahead, it's plotting a new strategy: acquisitions. With his company amassing cash and carrying no debt, Goyal believes Human Bees is worth five to six times its sales, double the multiple of many staffing competitors. So it would be valuable simply to take over smaller hives, and worth even more to make them fly smarter. "We've grown so much that 10-yard passes don't do much for us," says Goyal. "Diving a lot heavier into an acquisitions model is where you're already getting to the 50-yard line, and then giving them better operational efficiency."
All of which explains why Goyal today radiates an optimism that, given his company's recent performance, seems almost justifiable. "I'm not that worried about the apocalypse," he says, "because the apocalypse sort of happened a year and a half ago. And we thrived through it."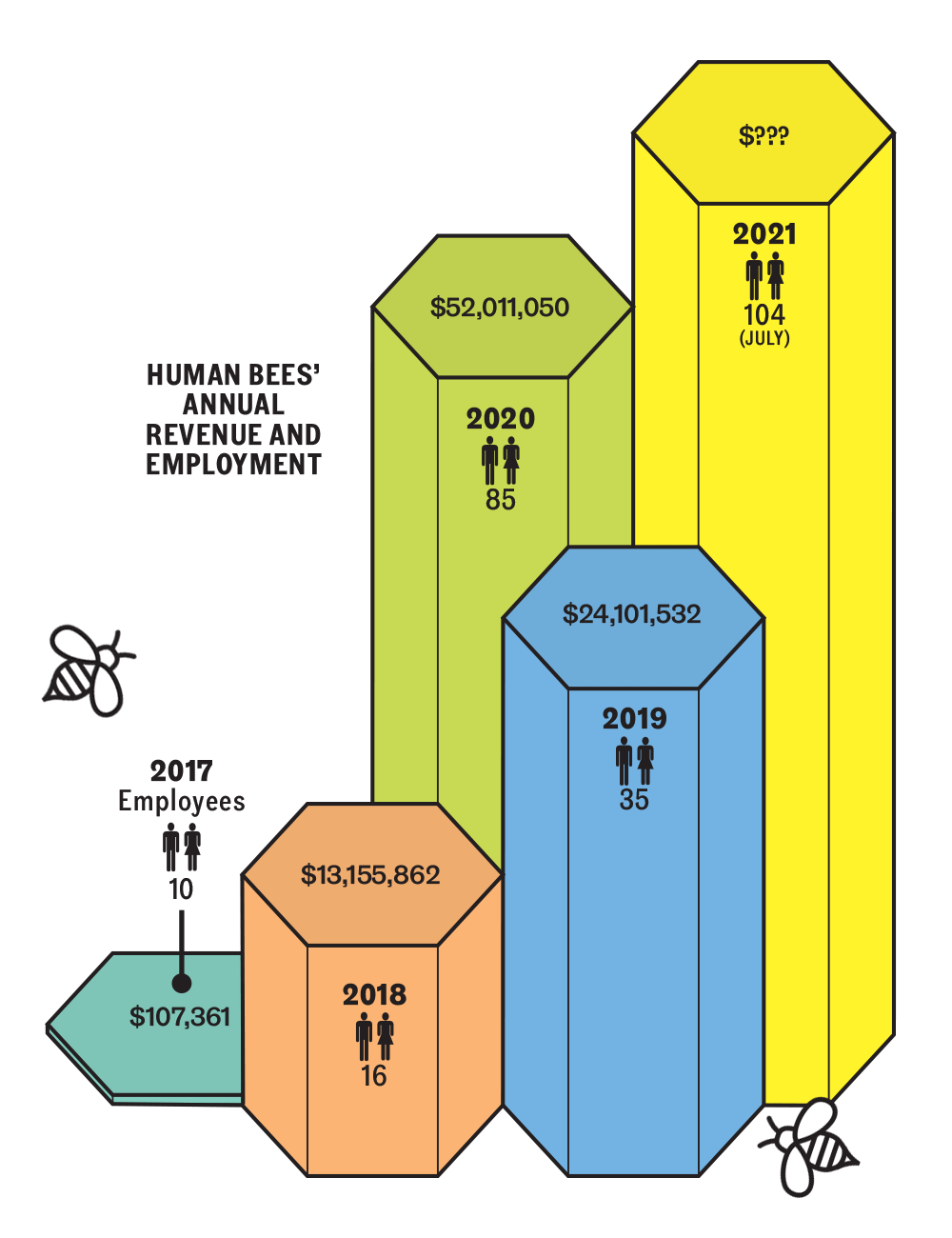 EXPLORE MORE Inc. 5000 COMPANIES
From the September 2021 issue of Inc. Magazine