The fashion world was abuzz with excitement as Kim Jones presented the first look at the exquisite new Dior Winter 2023-24 menswear collection at Paris Fashion Week. Taking clear inspiration from two of Europe's greatest cities, London and Paris, his vision was to honour their celebrated waterways. This dedication to his craft has become somewhat of a signature now for Jones, who expertly blends historic and contemporary sensibilities when presenting his pieces. It is no wonder that his name has been synonymous with modern luxury for some time now – and if this Dior collection is anything to go by, that reputation looks set to remain strong.
Jones explained that the inspiration for the collection was born out of a desire to pay homage to Yves Saint Laurent, the legendary French designer who worked as Dior's youngest couturier. The theme centered around the changing nature of rivers with influencers like its movement, fluidity and reflections of the Thames and Seine embodying the shifting landscape of fashion.
Jones was quoted saying "The cycle of a fashion house is about regeneration and rejuvenation, there is always something of the past in present and future and Dior is no different", making reference to the changes in direction after the death of Monsieur Dior. The result is a carefully crafted reminder into one of their cherished designers paying tribute to an illustrious figure in daute couture.
The Dior Winter 2023-24 reveal was one of the most highly anticipated shows at this season's Paris Men's Fashion Week, with some of the most recognizable names in attendance. Icons like Naomi Campbell and BTS star Jimin were wearing Dior, as well as David & Cruz Beckham, Adam Dimarco, Gwendoline Christie, and Manu Rios. Showing his renowned eye for detail, designer Kim Jones created a minimalist stage design featuring screens around the runway that lit up in sync with the Max Richter performance – further highlighting the luxury aesthetic of the brand. The show was a true testament to Jones' creative vision and signature style.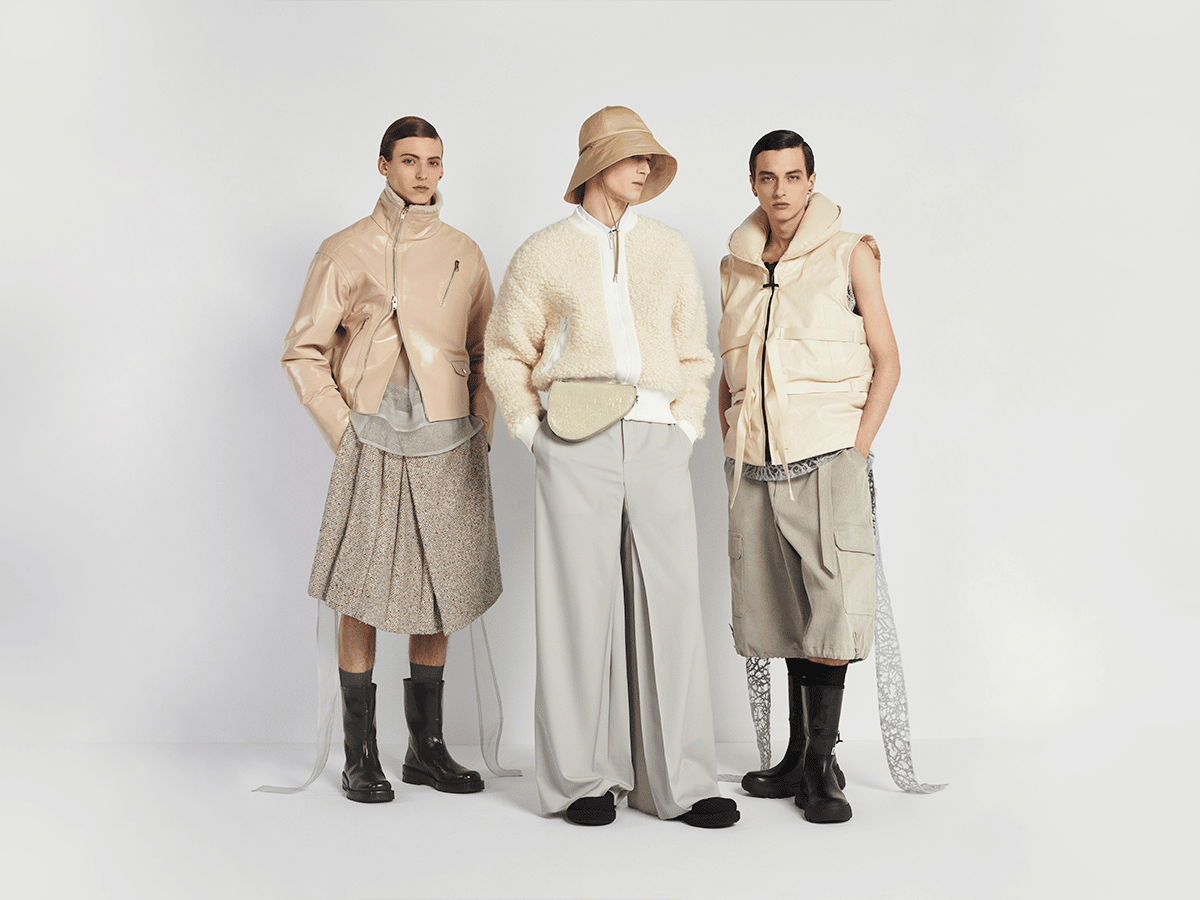 The show kicked off with a lavish selection of asymmetric knitwear boasting beaded details in an olive and grey tone. A refreshing burst of yellow and teal further accentuated this already eye-catching palette. In a touching homage to the past, some garments were taken directly from Dior's archives and refashioned for the modern age.
The iconic sailor top was remodelled in cavalry twill and doubled as an elongated fisherman's smock; its nautical theme continued through creative reinterpretations of pearls, knits, patent leather outerwear, and flood pants with shorter hems too. It truly was unforgettable fashion of luxury and sophistication that paid tribute to a much-beloved brand while powering it firmly into the future.
Jones' suiting display was one of the highlights of the Men's 2023-24 Winter Collection, featuring luxurious knits with unique detailing that made each piece stand out. His use of cinched biceps, polka dots, animal prints and mélange wools added to the striking feel while still nodding to the traditional vernacular shapes.
The combination of his iconic inspiration sources meshed seamlessly with Dior's tried-and-true design process – if this showcasing was an indication of what's to come for Dior in the coming year, it is bound for an unforgettable run.