We'll be the first to admit that waking up early and leaving a cozy bed isn't always enticing, but creating a bedroom that's energizing and mood-boosting can make it a whole lot easier. Since colors and light effect our mood, there's a strong case for a colorful bedroom. Whether you introduce those pops of color with paint, bedding, or artwork, you'll find something to emulate in the gorgeous examples of colorful bedrooms below (yes, even for those color-averse readers).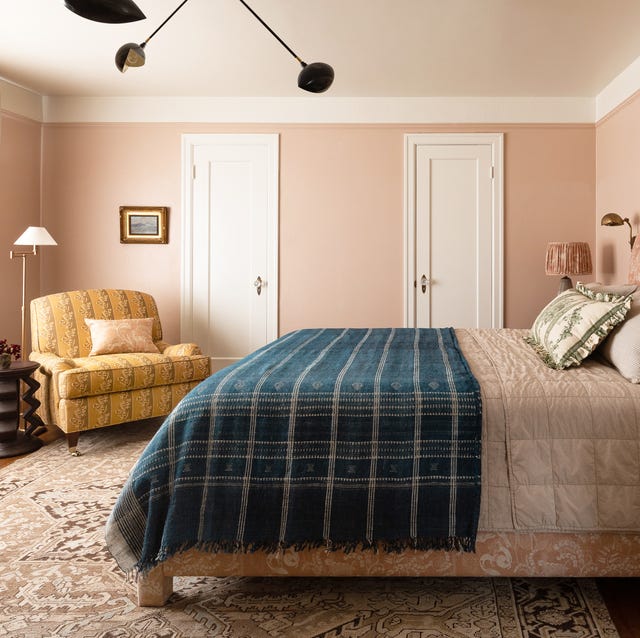 Heidi Caillier Design
1 Light Lilac
This lavender oasis designed by Cathy Chapman is proof that you can decorate with color while still being understated. Though it's bursting with shades of lavender, this little nook also exudes a calm, serene energy. The key is to stick to a color story of muted pastels. In this case, the designer worked within a purple spectrum while keeping things interesting with contrasting textures, shapes, and finishes.
2 
Khaki Green
In this cabin designed by Heidi Caillier, the guest bedroom is painted a soothing, nature-inspired shade of green. It's fitting for the environment and speaks to all the other accent colors used throughout the space, for a nice cohesive whole.
3 Blush Pink
If this whimsical bedroom doesn't make you blush, we don't know what will. "Exuberantly feminine, yet resolutely chic" was designer Jonathan Berger's motto for decorating this Brooklyn townhouse. Berger found the Suzani on eBay, while and the curvy Venetian-inspired headboard is covered in Nouvelle Orleans, a cut velvet from Clarence House that resembles ironwork but, of course, is much softer to the touch. The antique Napoleon III rope ottoman covered in an Aubusson tapestry adds a French country chic feel to seal the deal.
4 Ice Blue
A soothing soft blue feels like fresh air when you walk into the room. It adds an ethereal, dreamy quality to every space but also offers a ton of versatility, making it particularly well-suited for the bedroom. The linen bedding and makeshift side table accent chair contribute to that easy, undone elegance.
5 Lemon Yellow
It's always a good idea to consult the color wheel at every step of the decorating process. Knowing which colors complement one another will make everything easier, from ideating to shopping, and, of course, living within the final result. A good example of a job well done? This gray and yellow bedroom designed by Juan Carretero. There's no doubt that yellow represents cheer, so if you want to spread warmth and energy, this is the color for you. You'll love how the bright striped ceiling brings in a more playful element to the more traditional guest room.
6 Soft Black
While we often think of bright whites and crisp, light hues when trying to open up a smaller space, there's also a strong case for going darker. In fact, inkier tones are known to amplify smaller spaces. Not to mention, it sets the right mood in the bedroom. The soft black paint color in this bedroom makes it feel special and intimate in ways you'd never be able to achieve with a lighter hue.
7 Cobalt Blue
High gloss paints are a surefire way to make a bold statement. In this bedroom designed by decorator Alisa Bloom, the rich, liquidy sheen of the finish bounces light around a dark room. She used Fine Paints of Europe's Delft Blue 4003 in Hollandlac Brilliant to illuminate the entire bedroom.
8 Pale Beige
Who says beige is boring? Dependable, versatile, warm, and subtle, it's one of the best paint colors for a bedroom. A super light taupe shade will contrast just enough with crisp bright interiors while also injecting some warmth into space. It also brings to mind long walks on a sandy beach. Add pops of cheerful colors with decor and throw pillows.
9 Terracotta
A Canadian townhouse's guest bedroom exudes warmth with terracotta walls. A large, statement piece of art helps break up the dark color. Though brown isn't exactly the most obvious paint color when decorating a bedroom, this warm nook makes a strong case for it. The fact that it's unexpected makes it perfect for anyone who likes to experiment with color but doesn't love bright neons and playful pastels.
10 Bright White
This bedroom is a showstopper, plain and simple. And though some may say white is the absence of all colors, we'd argue this one is making quite a statement. In fact, sometimes neutral hues give the space a more timeless and open feel while also allowing other design highlights to stand out more. This attic bedroom, designed by Amber Interiors, uses a pure, cool shade of white that really energizes the entire space.
11 Steel Blue
""Responding to an unusual Y-shaped floor plan required a strategy to pull light from all directions to create a range of shifting light experiences: Moody and subtle to the south; bright and open to the east," explain the designers behind Arent & Pyke. For a moodier bedroom that isn't full-on dark, try a steel blue gray like this one. And then lighten things up with colorful linens and keep things streamlined with bright a white ceiling and modern bedside sconce.
12 Sage Green
Instead of painting your walls, add a statement ceiling in the bedroom, as the design duo at 2LG Studio did here. It draws the eye up and keeps things interesting. This shade of sage green is also a lovely color that's at once grounding, calming, and fun.
13 Bright Red
High-energy yet calming, bold yet timeless, this jaw-dropping bedroom designed by Brian J. McCarthy is serious goals. For a similar effect, stick to a tight two-color story with the walls in a show-stopping super high gloss paint and then dip your ceiling in flat white paint. "This finish feels fresh for a guest room, and the surprising pop of color is both warm and chic," he says.
14 Deep Marine
Heidi Caillier opted for a deep green-ish navy hue to marry the green, brown, and blue tones throughout the bedroom. To prevent it from being swallowed up in darkness, she only painted the walls this rich tone up to the chair line. This contrast also adds another element of intrigue.
15 Marigold
This bedroom proves just how beautiful marigold can look with navy blue and olive green. This sunny shade also works nicely when you incorporate accent pieces with metallic finishes for a glamorous aesthetic. Think bronze pendant lights and stools with interesting frames. These finishes accentuate yellow's shining personality.
16 Greige
If you think crisp all-white interiors look too stark but still like the look and feel of light neutrals, opt for warm oat-y creams or layers of soft, smoky grays. The results are edgy and industrial yet gentle and understated.
17 Violet
If you want to keep color from overpowering your space or you simply want to give your room a little more shape, color blocking is your solution. There are plenty of ways to play with this design trend, from more subtle and simple toning treatments to full-on murals. This bedroom designed by GRT Architects is somewhere in between. If you like what you see, try painting your paneling and leaving the walls light. Then opt for a low-to-the-ground bed to show it off even more.
18 Mint Green
Paired with a slightly more pistachio upholstered headboard and a retro-style crocheted coverlet, this bedroom designed by J. P. Horton belongs in the summer getaway home of our dreams. The traditional landscape painting and warm wood side chair ground the space and work beautifully with the mint green paint.
19 Peach
In this Scandinavian studio, peachy blush walls contrast with the high-impact black and white wall art. But that softness is reflected again in the jute rug and oat-hued linen bedding. Blush pink also pairs nicely with steel blue-gray tones and even bright red for an unexpected contrast.
20 Deep Navy
Paint your walls a nice deep shade of navy and then punctuate the depth with crisp white accents and vibrant bedding for a balanced bedroom. In this space designed by Mally Skok, the playful patterns contrast nicely with the deep blue walls, giving the room a touch of levity.
21 Butter Yellow
Designed by Kathryn M. Ireland, these white-painted wicker twin beds are topped with mosquito net canopies for an ethereal touch. The rose-printed canopy toppers offer a slight contrast in the pattern but keep the color story consistent, and the yellow walls anchor the entire space.
22 Light Gray
Paint your bedroom walls in a light gray to give it an icy edge, especially if you're spotlighting tons of warm, vibrant shades. The master bedroom in designer Janie Molster's home is brought to life by a dramatic Suzani behind the illustrious pink velvet headboard. Those curtains contribute to the sense of fullness, warmth, and energy, while the clean lines and classic chairs bring in a timeless touch and reflect the cooler tones of the walls.
23 Sky Blue
Though this shade of blue definitely makes a statement, it doesn't overpower the space nor overwhelm the eye—that's because it's consistent. Since this bedroom is basically a cocoon of light blue, there's a strong sense of cohesion and personality. So if you have a favorite color, and don't see it changing any time soon, why not let it be theme of your bedroom?
24 Grayscale
And for our final stop o this tour of bedroom colors, we're presenting you with a whole new world of options: Wallpaper. This bedroom isn't just a living space, it's a work of art. Our eyes are immediately drawn to the hypnotizing black painted stripes that trace the architectural DNA of the house itself, beautifully modernizing the bones of the Victorian home designed by Martyn Lawrence Bullard. The moody, lush throw pillow and end blanket add just a splash of color, which is really all you need in a space like this.